We have a new date. We are delighted to announce the new date for our Charity Golf Day, at The Renaissance Golf Club, host of the Abrdn Scottish Open, as 19th May 2022.  
The pandemic has impacted individuals and organisations in different ways, not least the charity sector. With many charities having to rollover their events from 2020, we have decided to move ours from our original September 2021 date. This will ensure our charity friends and their supporters hosting similar events, will have the opportunity to enjoy maximum success, as well as ourselves.   
We invite you to join us on 19th May 2022, for a wonderful afternoon of golf on the fabulous 18-hole links course at The Renaissance Club, Cowden Hill Drive, North Berwick, EH39 5HS. We welcome 4-ball teams to play at Renaissance. The day begins with a light lunch and team photos, followed by a great afternoon of golf including our fabulous prize-winning holes. With complimentary drinks throughout the day, evening dinner and superb auction we are sure you and your team will have a memorable experience.  
To book, please see our Invitation and Booking Form and if you have any questions, please don't hesitate to get in touch.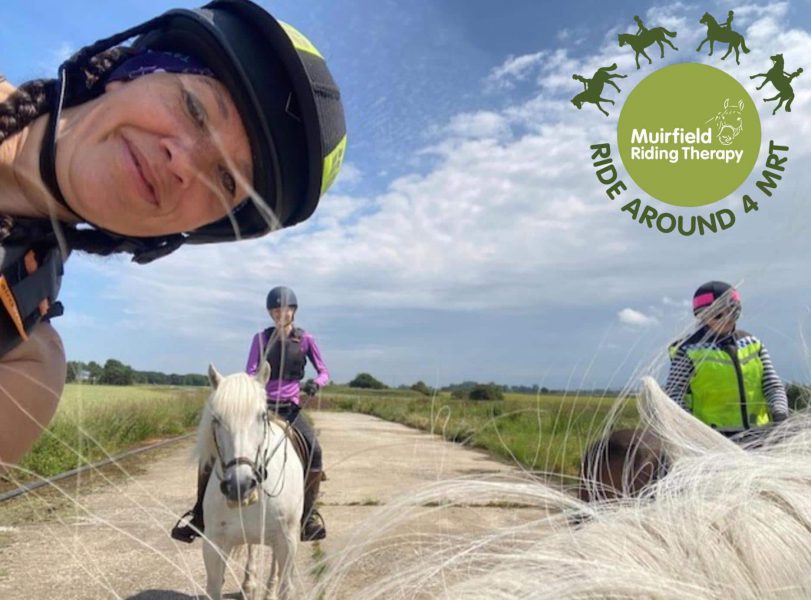 We've had fun this summer with our summer fundraising campaign, Ride Around 4 MRT  We hope you all enjoyed celebrating your horses and ponies, loyal companions throughout the pandemic, in support of our therapy ponies.  The campaign officially ended at our Summer Show for Horses and Ponies on Sunday 1st August.
Thank you to everyone who supported our inaugural virtual riding event, whether riding or donating!  We hope you enjoyed it!
Winners
We're delighted to announce our winners,
Team Baird – won our team distance challenge with a team distance of 400 km
Hilary Paterson – won our individual distance challenge with 277.3 km clocked up
And Pien Bennan was our fundraising challenge winner, raising an amazing £2,342.27!
Thank you very much to our prizes sponsor
Hendry Equestrian
 for donating generous gift vouchers for our worthy winners 
What a day we had on Sunday at our 'not our usual' Summer Show! We were so happy to see all our competitors with their gorgeous ponies and horses. Thanks to everyone for joining us for our first live, in-person fundraising event since the pandemic, and huge congratulations to all our worthy winners!
Sunday 1st August dawned dry and sunny thankfully, following a very damp set up on Saturday, and we had a superb day of competition with equine breeds of all shapes and sizes. Smiles all round, and thanks to everyone for complying with our covid restrictions. Together we raised over £5,100 which is absolutely fantastic, and a vital boost to the funding of our pioneering, life-changing equine therapy.
Results
Congratulations to all our worthy winners, please see the results here,
Our Show photographer Jim, of
Jim Hunter Images
who provides his services free of charge, will be offering photos from the day, for a donation. We'll let you know on our
Facebook page
as soon as they're posted up!
(Photo credit: Jim Hunter Images)
We are also indebted to our wonderful Judges, the
Rotary Club of North Berwick
for providing car park marshalling, our big team on the day who all volunteer their time and energy to create our Summer Show for Horses and Ponies.
It may have been 'not our usual' Summer Show this year, but thanks to all of you, it's been fun, hope you all enjoyed it as much as we did.
Next equestrian event
2021
Sunday 3 October
Sunday 7 November
Sunday 5 December
2022
Sunday 6 March – The Final